Frameless Shower Door for Trenton, NJ
Tired of your typical bathroom and shower? Tired of the same old shower curtain that needs to be replaced every couple of years? Ready to renovate your bathroom and don't want to hide your beautiful new ceramic tiles and shower head? Stop letting the same-old, same old hold your bathroom back from reaching its full potential.
Let ShowerMan help by designing and installing your very own custom Frameless Shower Doors!
Frameless Shower Doors used to only be for the very wealthy. But now every homeowner can afford to add this sleek, luxurious look to complete their bathroom's transformation from the typical to the extraordinary. In fact, after investing all that money on your bathroom's renovation, can you afford not to?
Unlike the constricted look of average framed doors, Frameless Shower Doors provide the open, spacious feel your bathroom deserves. This enhances the contemporary, spa-like oasis you're striving to achieve.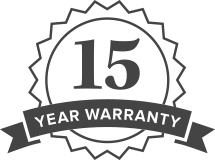 GIVING YOU PEACE OF MIND FOR OVER 15 YEARS
Our 15-year warranty on all frameless glass door products is unmatched by any of our competitors. Come to ShowerMan and see why our service is the best around.
---
Learn More About Our Warranty