ShowerGuard Protective Coating
ShowerGuard Protective Coating is the glass industry's protective coating of choice. Why? Because it's patented ion-beam process fills in the naturally occurring peaks and valleys found in regular glass. And, unlike wipe-on or spray-on protectants, which need to be reapplied, ShowerGuard comes with a Lifetime Limited Warranty. That means, if the coating fails to protect the glass from heat, hard water, and humidity, ShowerGuard sends new glass and ShowerMan installs it, all at no cost to you.
Obstacles to keeping glass clean
The biggest obstacles to maintaining your crystal clear glass, especially in the bathroom, are the heat, humidity, hard water, cleansers, and soap your shower doors and walls encounter numerous times a day. Over time, this daily onslaught roughens glass, giving spots, residue, and scum a place to dig in, creating a dull, dirty look. Worse, cleansers and soap can also lead to staining, discoloration, and corrosion.
ShowerGuard uses its patented ion-beam technology, which is baked on during the manufacturing process and creates an invisible barrier that prevents the signs of age and permanent damage. This invisible coating is fused to the surface and is guaranteed to last a lifetime.
Even Easier Maintenance!
As easy as Frameless Shower Doors are to maintain, ShowerGuard makes it even easier. Because ShowerGuard coats the surface of the glass, periodic maintenance is as easy as a soft cloth or wet sponge combined with most household cleaners.
ShowerGuard's preferred products for cleaning
Recommended Cleaning Products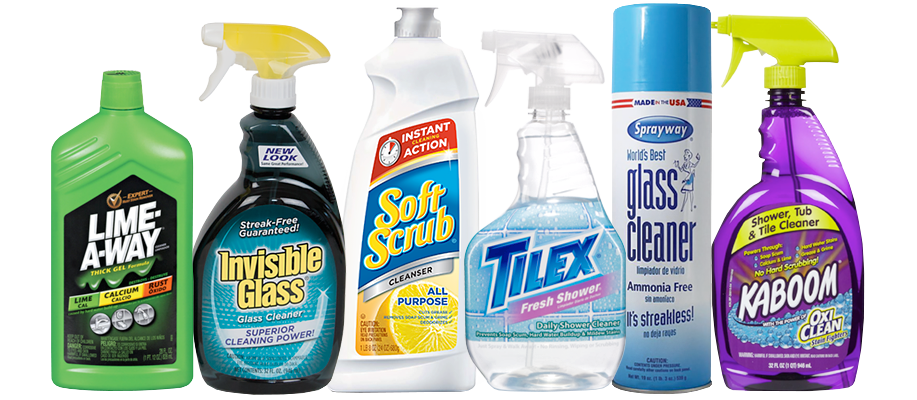 Soft Scrub Lemon Cleanser
Arm & Hammer Clean Shower
Comet Bathroom Cleaner with Disinfectant
Fantastik Antibacterial Heavy Duty Cleaner
HDX Shower, Tub & Tile Cleaner
Hope's Perfect Glass Cleaner
Invisible Glass Premium Glass Cleaner
Kaboom Shower, Tub & Tile Cleaner
Lime-a-Way Bathroom Cleaner
Lysol Bathroom Cleaner
Mr. Clean Magic Eraser
Soft Scrub with Bleach Cleanser
Sprayway Ammonia Free Glass Cleaner
Tilex Fresh Shower
Wet & Forget
Windex Multi-Surface Vinegar
Windex Original Glass Cleaner
Natural Products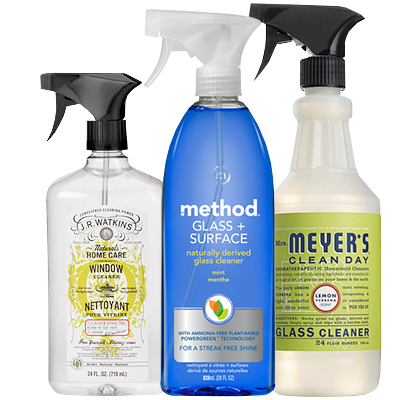 Clorox Green Works Glass Cleaner
Holy Cow Glass Cleaner
iQ Glass Cleaner
J.R. Watkins Window Cleaner
Method Mint Natural Glass Cleaner
Mrs. Meyer's Clean Day Glass Cleaner
Seventh Generation Natural Glass & Surface Cleaner
Sparkle Green Glass Cleaner
Mixture of 50/50 water and vinegar
Avoid Abrasive Cleaners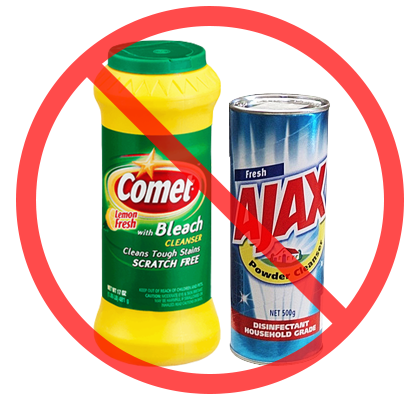 Ajax
Comet
CRL Bio-Clean
CRL Sparkle
Rouge and Cerium Oxide
Hydrofluoric and phosphoric acid are corrosive to the coating and glass surfaces and shouldn't be used.
Do not use abrasive brushes, razor blades, or other sharp objects.
Visit us today!
To see the difference that ShowerGuard can add to your project or renovation, visit our Photo Gallery or our Showroom conveniently located on Route 9 North in Manalapan. Call us today at 732-303-9044 or request a quote to schedule an appointment.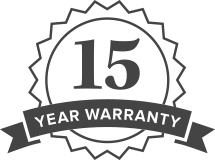 GIVING YOU PEACE OF MIND FOR OVER 15 YEARS
Our 15-year warranty on all frameless glass door products is unmatched by any of our competitors. Come to ShowerMan and see why our service is the best around.
Learn More About Our Warranty