Testimonials
All testimonials shown below are from our Angie's List profile. Due to Angie's List rules, we cannot publicly display the names of reviewers here.
"We love it. They came out and spec'd the job. We then visited the showroom and picked out the exact glass, handles, etc. About 2 weeks later two workers came out and removed and installed the new [door] in about 3 hours. A few days later after everything dried and cured it was ready to use. No rework, no extra visits. Very professional outfit. Would definitely recommend."
"The installer came and measured and recommended where the glass should go. He said that it would take 10 days to assemble and would be ready to install after that. All the work was completed as promised and I would highly recommend this company. From the time we selected what we wanted at the store to the completion of the work, I was very happy."
"Excellent work!  What I wanted was a little unorthodox, but they designed a way to make it work and the result is beautiful.  I would use them again and highly recommend their work."
"The entire experience was great. Our new shower door really finished off our bathroom renovation. Mark and Tara were both such a pleasure to deal with and the installers were great as well. Thanks, ShowerMan."
"The owner, Mark, came promptly to my house at the time of the initial appointment. He was personable, professional and had samples and photos on his iPad which made it very helpful. His price was reasonable. He measured and within 10 days they were ready to do the installation. The installation had to be aborted due to an error in the size of the door so another week passed and I now am enjoying a beautiful shower door and mirror. The company agreed to adjust my cost for the inconvenience. The installers were also prompt and efficient. I would recommend this company."
"I called many (5-6) other places, but once I spoke with Mark there was no question that I was going to use his company – and I am so glad I did! Everything went perfectly smooth and was done when it was supposed to be done, how it was supposed to be done. Everyone from the company was professional and a delight to deal with. And most importantly, they are all meticulous perfectionists, which is rare to find in this day and age – and so immensely appreciated by this meticulous perfectionist! I highly recommend this company and will use them for any/all glass or mirror needs that I may have going forward."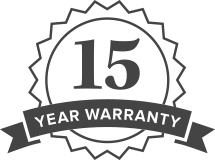 GIVING YOU PEACE OF MIND FOR OVER 15 YEARS
Our 15-year warranty on all frameless glass door products is unmatched by any of our competitors. Come to ShowerMan and see why our service is the best around.
Learn More About Our Warranty