NOTE: Due to Angie's List rules, we cannot publicly display the names of reviewers who left testimonials on
our Angie's List profile
.
---
The installer came and measured and recommended where the glass should go. He said that it would take 10 days to assemble and would be ready to install after that. All the work was completed as promised and I would highly recommend this company. From the time we selected what we wanted at the store to the completion of the work, I was very happy.
Mark and his team were unbelievable and his showroom is so unreal. You need to go and see it to believe it. He has done my home and office glass doors and all my desks at work. His work speaks for itself. No one can measure like Mark can.
Jerome Fokas
ShowerMan designed and installed my shower glass and vanity mirror. Mark did a fantastic job designing a unique look that matched the design of our new bathroom. It far exceeded our expectations. The install team did a fantastic job and now I have a spectacular bathroom that I love.
Linda Everk
From the moment I stepped into their showroom, I was amazed. They get it. I knew that this was a Top Shelf Company. I keep seeing their billboards, which kept reminding me of this project that we kept putting off. My wife and I told our sales women what our intentions were for our master bathroom remodel. They actually recommended some key contractors that they have used. Our dream became a reality.We credit our Happiness to The Showerman and their team.
Glenn & Laura Scher
I highly recommend ShowerMan – he is the 'superhero' of installations. My experience when it comes to glass cutting and installation is that is both an art and a science. Precision comes with experience and ShowerMan is a veteran in this field.
Barbara and Steve Schecter
I've had the pleasure of using Showerman for both my bathrooms! I love the doors! The workers are all professional and courteous! Highly recommended!
Abby Stier Skurat
I have never been as pleased with the work of a contractor as I've been with Showerman. Honesty during the purchase process as well as expert and clean installation. I recommend them highly!
Alan Dworkin
We love it. They came out and spec'd the job. We then visited the showroom and picked out the exact glass, handles, etc. About 2 weeks later two workers came out and removed and installed the new [door] in about 3 hours. A few days later after everything dried and cured it was ready to use. No rework, no extra visits. Very professional outfit. Would definitely recommend.
I would highly recommend ShowerMan located in Manalapan. I found them to be very professional and reliable. My shower doors were installed today and I love them!!! The installers were very neat and tidy which to me is very important!!
Thank you ShowerMan for making my purchase and installation a very positive experience.
Barbara Horowitz Scheinerman
Excellent work! What I wanted was a little unorthodox, but they designed a way to make it work and the result is beautiful. I would use them again and highly recommend their work.
The owner, Mark, came promptly to my house at the time of the initial appointment. He was personable, professional and had samples and photos on his iPad which made it very helpful. His price was reasonable. He measured and within 10 days they were ready to do the installation. The installation had to be aborted due to an error in the size of the door so another week passed and I now am enjoying a beautiful shower door and mirror. The company agreed to adjust my cost for the inconvenience. The installers were also prompt and efficient. I would recommend this company.
I called many (5-6) other places, but once I spoke with Mark there was no question that I was going to use his company – and I am so glad I did! Everything went perfectly smooth and was done when it was supposed to be done, how it was supposed to be done. Everyone from the company was professional and a delight to deal with. And most importantly, they are all meticulous perfectionists, which is rare to find in this day and age – and so immensely appreciated by this meticulous perfectionist! I highly recommend this company and will use them for any/all glass or mirror needs that I may have going forward.
The quality of the shower door glass and the hardware are top notch – they were the icing on the cake of our bathroom makeover. Everything went as planned, from scheduling the appointments to the installation.
Faith A. Duffy
The entire experience was great. Our new shower door really finished off our bathroom renovation. Mark and Tara were both such a pleasure to deal with and the installers were great as well. Thanks, ShowerMan.
5 star all along!! My walk in shower looks beautiful! Very professional.
Jaya Choudhury
ShowerMan is the best in the business. Their workmanship is superb and their professionalism is outstanding. Mark and his crew are experts in what they do. I highly recommend using them to my clients and know they will get the job done right.
Rob Dipiazza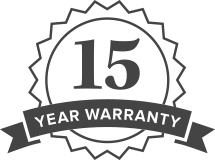 GIVING YOU PEACE OF MIND FOR OVER 15 YEARS
Our 15-year warranty on all frameless glass door products is unmatched by any of our competitors. Come to ShowerMan and see why our service is the best around.
---
Learn More About Our Warranty