Maintenance
No one enjoys cleaning their shower. No matter what you do, or how often you clean it, there always seems to be an accumulation of soap scum, discoloring your shower and bathroom. Then, you have to use toxic cleaners, scrubbing with rubber gloves until your arms get tired.
The Best Way to Clean Your Shower
The mistake most people make is that the best time to clean your shower is while you're in it. The easiest, and most efficient way to clean your shower is to use a daily shower spray after every shower and then squeegee before it dries. When water and soap dry on a surface, they leave behind mineral deposits providing a home for soap scum and bacteria to grow. Therefore, the most important thing to remember about maintaining your frameless glass enclosure, is to keep water and soap from drying on the glass and tiles.
Quick, daily maintenance means cleaning becomes much easier. As an economic way to clean your shower, ShowerMan recommends using a little bit of shampoo in a loofah and wiping your shower enclosure. Rinse the suds with warm water and squeegee the water before it dries.
We know that is not the preferred way for many homeowners, so a list of cleaning products that we recommend and are recommended from Guardian ShowerGuard are: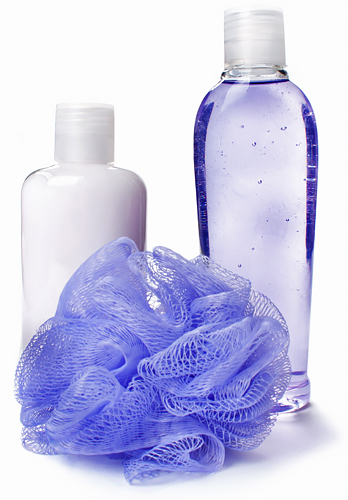 Recommended Cleaning Products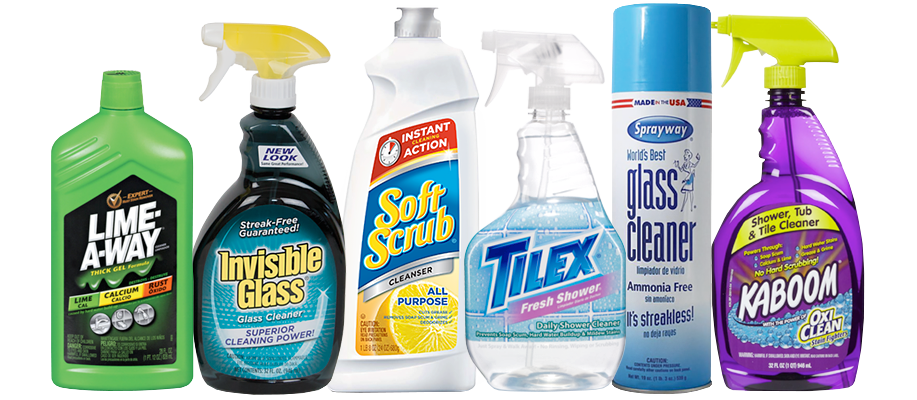 Soft Scrub Lemon Cleanser
Arm & Hammer Clean Shower
Comet Bathroom Cleaner with Disinfectant
Fantastik Antibacterial Heavy Duty Cleaner
HDX Shower, Tub & Tile Cleaner
Hope's Perfect Glass Cleaner
Invisible Glass Premium Glass Cleaner
Kaboom Shower, Tub & Tile Cleaner
Lime-a-Way Bathroom Cleaner
Lysol Bathroom Cleaner
Mr. Clean Magic Eraser
Soft Scrub with Bleach Cleanser
Sprayway Ammonia Free Glass Cleaner
Tilex Fresh Shower
Wet & Forget
Windex Multi-Surface Vinegar
Windex Original Glass Cleaner
Natural Products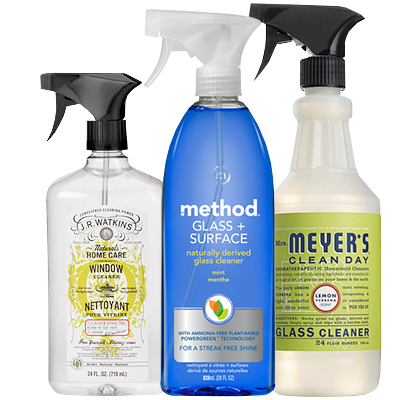 Clorox Green Works Glass Cleaner
Holy Cow Glass Cleaner
iQ Glass Cleaner
J.R. Watkins Window Cleaner
Method Mint Natural Glass Cleaner
Mrs. Meyer's Clean Day Glass Cleaner
Seventh Generation Natural Glass & Surface Cleaner
Sparkle Green Glass Cleaner
Mixture of 50/50 water and vinegar
Avoid Abrasive Cleaners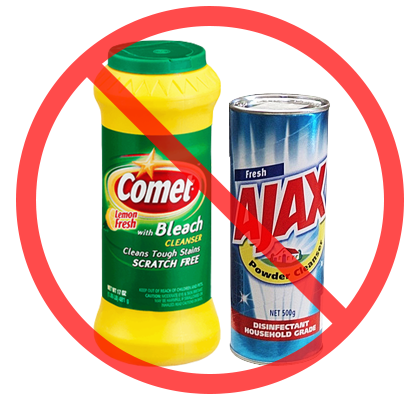 Ajax
Comet
CRL Bio-Clean
CRL Sparkle
Rouge and Cerium Oxide
Hydrofluoric and phosphoric acid are corrosive to the coating and glass surfaces and shouldn't be used.
Do not use abrasive brushes, razor blades, or other sharp objects.
Get the most out of your
FRAMELESS
SHOWER DOORS
Sign up for our newsletter by entering your information below.
"*" indicates required fields
Benefits of Frameless Shower Doors
One of the many benefits of choosing Frameless Shower Doors is that there are no tracks or channels like there are in common shower enclosures where mold and bacteria can grow. Solid sheets of glass have no areas where soap scum can infiltrate, especially when upgraded to the ShowerGuard Protective Coating. That means you have so much less to worry about when maintaining and cleaning your Frameless Shower Enclosure.
Cleaning Shower Hardware
Just like your glass shower enclosure and the tiles, the most important thing to remember is to blot the water dry. Letting water evaporate dry on your finishes can lead to a buildup of mineral deposits, creating a place for mold and bacteria to grow. So, everyday, blot the hardware dry with a soft towel. The best way to remove water spots is to use warm water and a soft, damp cloth. For hard water stains, the best cleaning solution is a 50/50 water and white vinegar solution with a soft, damp cloth. Afterward, make sure you rinse thoroughly with water and blot dry.
By following these easy instructions, not only will you keep your shower Hardware spotless for years to come, you will also be adhering to the specifications set forth in our 15 Year Warranty, meaning your Hardware will be covered for 15 years.
Call us today!
Maintaining your Frameless Shower Enclosure and Hardware by using these simple tips means that your shower will sparkle for years to come. If you are in the market for a Frameless Shower Door, visit our Photo Gallery to see some of our past projects. Then, you can request a quote or call ShowerMan at 732-303-9044 to schedule an appointment.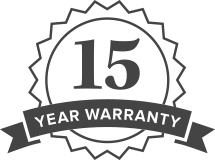 GIVING YOU PEACE OF MIND FOR OVER 15 YEARS
Our 15-year warranty on all frameless glass door products is unmatched by any of our competitors. Come to ShowerMan and see why our service is the best around.
Learn More About Our Warranty