STARPHIRE® Custom Glass
Designers and contractors throughout the country have chosen STARPHIRE® custom glass because it has the highest transparency in the industry. With its stunning clarity, STARPHIRE® glass has been used on such iconic buildings as the Comcast Center in Philadelphia and the Alcoa Building in Pittsburgh. Now, imagine what it can add to your home.
The STARPHIRE® Difference
STARPHIRE® glass contains less than 10% of the iron found in regular glass. This allows STARPHIRE® glass to transmit 91% of light, compared to regular glass, which can only transmit 83%. Also, we've all seen the green tint that regular glass produces, which becomes more prevalent with thicker glass. STARPHIRE® glass eliminates that green tint, providing impeccably clear views by allowing whites, reds, and yellows to pass through at a higher percentage. That way, the beautiful ceramic tiles, accents, and furnishings you've chosen as part of your bathroom renovation, will pop even more.
Benefits of STARPHIRE® Glass
10% iron of regular glass (To the right, STARPHIRE® glass is pictured on top of regular glass)
91% of light transmits through (compared to only 83% of regular glass)
Whites, reds, and yellows appear more clearly
Tiles, accents, and furnishings pop even more!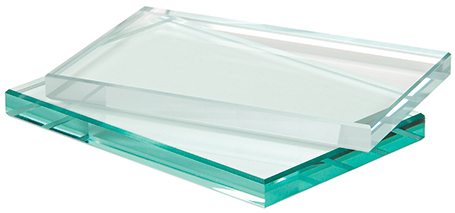 STARPHIRE® Glass has many uses!
STARPHIRE® glass can be used as the centerpiece of your bathroom's transformation, but it can also be used for a variety of interior needs, such as:
Protective Tabletops – STARPHIRE® glass looks great on white or light color finishes
Glass shelves – In bathrooms, glass shelves can complete your bathroom design
Glass Artwork – When using deco tile murals in your Glass Shower Enclosure, STARPHIRE® glass can make it pop even more
Check out our Photo Gallery to see a collection of projects.
Visit us today!
Whether it's a PPG STARPHIRE® glass shower door and panels or a variety of other architectural uses, this custom glass will quickly become the focus of your home décor. Visit our Photo Gallery or our Showroom to see the clarity STARPHIRE® can add to your project. Request a quote or call us today at 732-303-9044 to schedule an appointment.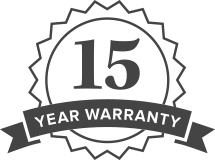 GIVING YOU PEACE OF MIND FOR OVER 15 YEARS
Our 15-year warranty on all frameless glass door products is unmatched by any of our competitors. Come to ShowerMan and see why our service is the best around.
Learn More About Our Warranty